Unique Concept And Fun For The Whole Family!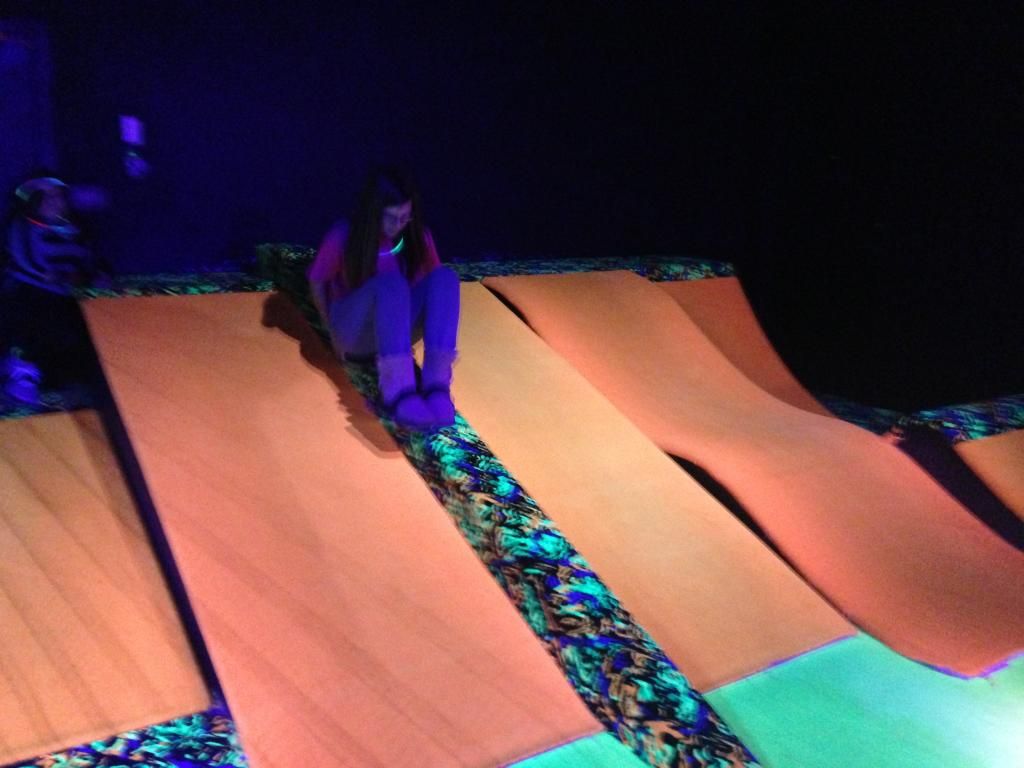 Fun Slides Carpet Skate Park is the world's ONLY carpet skate park and is located just 40 minutes from Pittsburgh in the town of Greensburg. Fun Slides is a christian and family owned business that opened about 1 ½ years ago. Speaking with owner, Candy Holsing, we learned that her father and brother had actually invented the popular EZ Moves Furniture Slides slides back in 2002 (they make moving furniture soooo simple). A short time later, they then developed Fun Slides that easily attach to your feet with velcro holders and had eventually offered a "test" ramp to show off their products at the Toy Fair trade show in 2004. They were the most popular booth and soon after began the dream to open Fun Slides Carpet Skate Park, a 12,000 foot fun center for the whole family!
"The best way to describe "Fun Sliding" is like sliding with your socks on wood floors…but you can do it on carpet. Basically, they are smooth plastic 'skates' that are strapped under . The 'gripper grooves' on the bottom provide traction. Carpet Skating is a safer alternative to skating on ice or concrete yet very cool for kids (and adults!)."
Age – The Fun Slides Skate Park is advised for kids 4 and older, though we did see a few younger ones on our trip – they have no fear! Kids under 4 are required to have an adult with them to supervise on the floor. Non-skaters are always free, so you can simply walk around and assist as needed. My hubby and I were two of adults skating at our particular session … there were many more adult spectators … but I would do it all again. The kids loved having us out there with them and we had just as much fun!

What to Wear - Comfortable tennis shoes are best ... though some were skating in UGG style boots - definately closed toes. Lightweight but long sleeved shirts and long pants are advised so you won't get rug burns. It is a bit of a workout as you have to climb up on the platforms and "concentrate" on the way down.
Safety – You likely will fall at least once ... waivers are required to be signed for all participants before you head into the arena. Children 7 and under are required to wear helmets that are provided (or you can bring your own bicycle Helmet). There is additional safety equipment available on a first come basis (but we found there to be plenty on our visit) – equipment includes wrist guards, knee pads and helmets. I made my 8 yr. old wear the wrist guards and the rest of us took our chances. There are varying degrees of ramp heights and levels of difficulty. Each group is given a personal "skate guide" to teach you the basics when you arrive... they'll teach you to start "low" and work your way up to standing. For the littler ones, they offer various skate bands that allow them to be creative in handling the ramps but lying on your belly, sitting, doubling up like a sled … you name it! The little ones would just sit and slide down ... similar to indoor sledding!
Atmosphere – The center offers an upbeat party feel with black lit room and neon slides and carpets. The music is upbeat and loud, but not too loud to hear each other easily. There are strobe/party lights too! The bathrooms are large and very clean.
Spectators – As I mentioned, spectators or non-skaters are always free. There is free Wi-Fi and a great walled off and raised area where you can sit and watch the kids while you get some work done. I highly recommend getting out there with the kids to try it ... soooo fun!
Variety – There are a variety of ramp sizes and heights to accommodate all in the family. I quickly took on the higher ramp in a standing position … but could not say the same for the wavy ramps. I did not even attempt the steeper "half pipe" versions. The kids, including hubby, learned some tricks from the staff that included shredding the "rails". There is a new, and popular, dodge ball area that is tucked away behind a wall of netting. Full of neon colored soft balls, this was a popular spot for the kids. I didn't think 2 hours was enough time ... but I was wooped at the end. The kids could have kept going, but I do think the 2 hour time was perfect.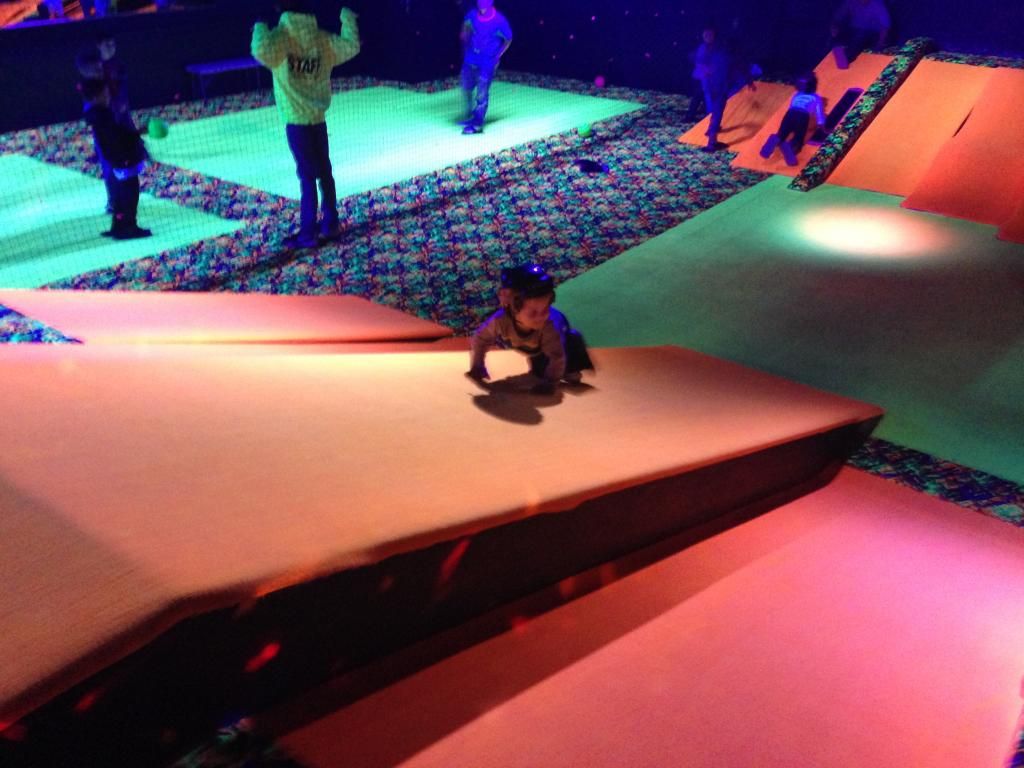 Staff – The staff is plentiful and awesome. Josh was our initial skate mentor and took time helping us to get our skates on properly and give us the basics. Later, Kyle helped us advance a little by showing us how to go backwards, shred the rails and other tips to mix it up. The staff was all easily identified with neon green jackets – most, if not all, are skateboarders and snowboarders themselves and had lots to offer in the way of friendly tips if you ask!
Price – Current admission is based on a 2 hour session … with Saturday afternoon (1:30-3:30) session being the busiest. Admission is $10 per skater and an additional $2.50 for your skates. You can score some savings with a coupon on PittsburghKidsGuide.com offering BOGO admission! Bring some extra cash to purchase a glowing necklace or some glow in the dark face paint or hairspray to make it more fun. You can even take home your own fun slides skates for $10!
Food – There is plans for a kitchen to be opening in February … so you will be able to grab a pretzel, pizza or drink in the near future. For now, you have easy access to the water fountain … which you will need as you work up a sweat with all that skating!
Birthdays/Groups – There are 3 birthday/group rooms in which you can host a group gathering – each room can safely hold up to 20 kids. The staff will take care of your every need, you just need to book it and enjoy! Pizza and drinks are included in your package … you just bring the cake. Check out our coupon for Birthday Party savings too .... Birthday Savings Offer
I would totally recommend this place for some indoor fun. My bet is that it won't be long before Fun Slides Skate Parks show up all over the country – what a brilliant idea! In fact, they plan to expand to the North Hills this spring with a new and much larger facility that will offer more birthday rooms, more variety in slides and a section to keep the smaller kids separate from the others. Stay tuned for grand opening information soon! You can get all the details at www.funslidespark.com or follow them on Facebook at https://www.facebook.com/pages/Fun-Slides-Park/163376563727108